YWCA Interim House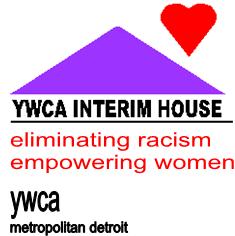 ...the ONLY domestic violence shelter in the city of Detroit.
YWCA Interim House, a unit of the YWCA of Metropolitan Detroit, first opened its doors in 1979, becoming one of the first and largest shelters in Michigan.
The YWCA Interim House Mission is to empower survivors of domestic violence and sexual assault by helping them to realize the ability to control their lives.
The YWCA Interim House goal is to help every woman and child recover from the effects of domestic violence and sexual assault by providing safety options for building healthy relationships.
YWCA Interim House offers services to battered women and their children in a safe, comfortable and supportive environment. The average length of stay is 60 days.
YWCA Interim House offers:
• 24-hour crisis line
• 67-bed shelter
• food and clothing
• individual, family & children and group counseling
• residential & non-residential support groups
• legal advocacy
• sexual assault advocacy
• childcare services
• community education
• information & referrals
Our facility includes:
• Newly renovated playground
• Well-equipped exercise room
• Childcare Center with expansive children's activities and structured learning program
• Two resident activity rooms
• Tutoring program
• Ready Read Program for children
• Life-skills workshops such as nutrition, needlepoint, budgeting/financial planning, parenting, etc.
YWCA Interim House Affiliations:
• Michigan Coalition Against Domestic and Sexual Violence
• Wayne County Council Against Family Violence
• Homeless Action Network of Detroit
Individuals are referred to:
• legal services
• financial assistance
• medical services
• transportation
• transitional & permanent housing
Would you like to donate? The YWCA Interim House needs:
• Financial contributions
• Gift certificates (Kroger, Costco, etc.)
• Phone cards
• Bus cards
• Volunteer time
• New women's & children's clothing
• Personal care products
• Linens
• Furniture
• Appliances
• Office supplies and equipment
• Child care products (diapers, etc.)
YWCA Interim House
Domestic Violence Shelter
PO Box 21904
Detroit MI 48221
(313) 861-5300