Breaking News
Soledad O'Brien to Receive Dorothy I. Height Racial Justice Award at YWCA USA Annual Conference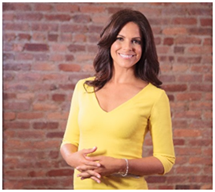 Soledad O'Brien
We are thrilled to announce that award-winning broadcast journalist, executive producer, advocate and philanthropist Soledad O'Brien will receive the Dorothy I. Height Racial Justice Award at this year's YWCA USA Annual Conference! We will honor her on Thursday, June 12, 2014.
Soledad O'Brien's commitment to bringing stories about race to the forefront through her critically acclaimed documentaries, Black in America and Latino in America, and her commitment to ensuring that disadvantaged young women receive a college education through her foundation, The Soledad O'Brien and Brad Raymond Starfish Foundation, exemplifies the work of civil rights pioneer and YWCA leader Dorothy Height. We hope you will join us at this year's Annual Conference in Washington, D.C.
Remember, the early bird registration deadline for our 2014 YWCA USA Annual Conference is May 9, 2014! Register today to take advantage of early bird rates!
Sincerely,
YWCA USA Communications Department
---
For Immediate Release

February 28, 2013
Media Contact:
Robin Scullin (202-835-2358); rscullin@ywca.org
James Grant (917-626-1300); james@jamesgrantpr.com



YWCA USA Celebrates the Passage of VAWA in the
U.S. House of Representatives



Washington, D.C. ― The YWCA USA celebrates the passage today in the U.S. House of Representatives of (S. 47), the Violence Against Women Act (VAWA), by a vote of 286 to 138. Initially passed by the Senate on February 13, the bill will now go to the President to be signed into law.

Since its expiration in 2011, victims of violence and abuse have been waiting for Congress to move forward on swift and immediate passage of VAWA. Nearly 2,600 women have been murdered as a result of domestic violence and sexual assault since VAWA expired.

"As the largest provider of domestic violence programs in the United States, the YWCA is deeply invested in the health and safety of all women. We are pleased that the House supported this bill that addresses violence in all forms, wherever it occurs," said Dara Richardson-Heron, MD, CEO of the YWCA USA. "And, we are even more pleased that women across the country can continue to benefit from the safe harbor that VAWA funding provides."

YWCA local associations rely on funding from VAWA to serve over half a million women each year through anti-violence programs and provide essential services for victims of violence through 24-hour crisis hotlines, emergency shelters and transitional housing, counseling, legal assistance, affordable child care and financial empowerment programs. As a direct service provider to all victims, the YWCA strongly supports a bill that includes protections for all women, including Native women, immigrants, and members of the LGBT community.

About the YWCA USA

The YWCA is the voice for every woman. For more than 150 years, the YWCA has spoken out and taken action on behalf of women and girls. The YWCA is dedicated to eliminating racism, empowering women and promoting peace, justice, freedom and dignity for all. Over 2 million people participate each year in YWCA programs at more than 1,300 locations across the U.S.